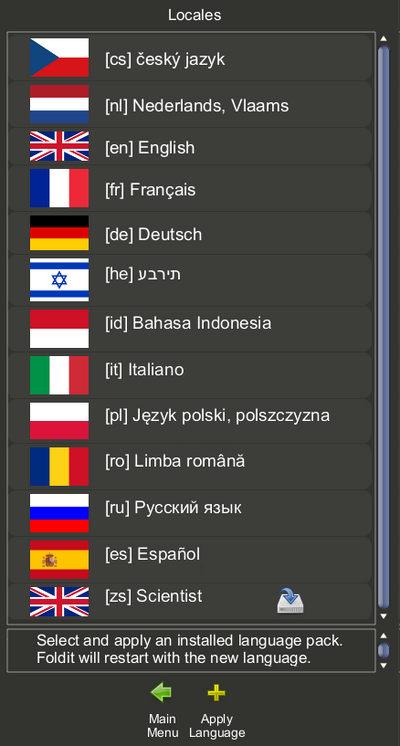 The Set language option appears on the login screen of the Foldit application.
Foldit translations are created on a volunteer basis.
The available languages include:
Czech
Dutch
English
French
German
Hebrew
Indonesian
Italian
Polish
Romanian
Russian
Spanish
Scientist
Users may select a language by double-clicking on it, or selecting with a single click followed by clicking on "Apply Language".
When a language is selected, the Foldit application closes and then restarts using the new language.
The "Scientist" translation is mostly the same as English, except for the following terms:
There are several limits to translations.
The Foldit website is mainly in English. Items such as puzzles and most recipes appear in English on the website, and also in the corresponding spots in the game.
Translations may become outdated as Foldit changes. New terms introduced in the game remain untranslated until a volunteer translates them.
There may be some text which doesn't get translated. Particularly in the intro puzzles, there may be a mix of English and other languages.
Technical limitations in Foldit relating to character encoding and writing systems may make translation into some languages impossible.
Community content is available under
CC-BY-SA
unless otherwise noted.