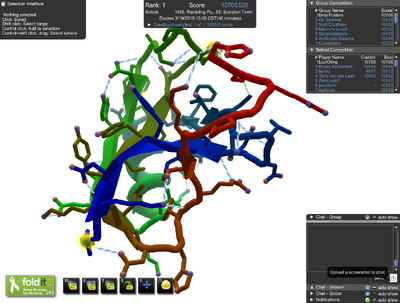 55: Scorpion Toxin is a revisiting puzzle, originally presented as Puzzle 55: Scorpion Toxin in 2008.
For other revisiting puzzles involving scorpion toxins, see Revisiting puzzle/Scorpion toxin.
The puzzle protein is a neurotoxin from Androctonus australis, one of the most toxic species of scorpion.
The puzzle protein has 64 segments with the sequence:
vkdgyivddvnctyfcgrnaycneectklkgesgycqwaspygnacycyklpdhvrtkgpgrch

This sequence is found in these Protein Data Bank entries:
The puzzle protein can have four disulfide bridges, identified in 1AHO as 12-63, 16-36, 22-46, and 26-48. In recent visits to this puzzle, each bridge is awarded a bonus of 250 points.
The recipe Bridge Wiggle v 1.2.1 - Brow42 accepts the bridges in this format:
16,36 12,63 22,46 26,48 

This puzzle protein does not have any ligands.
This puzzle protein has a single chain.
See players' solutions from previous visits to puzzle 55:
Complete series of revisits with top scores:
| puzzle | closed | top solo score | top solo | top evo score | top evo | top group score | top group | comments |
| --- | --- | --- | --- | --- | --- | --- | --- | --- |
| 55: Scorpion Toxin | 05/23/08 | 9,032 | Diderot | | | 9,032 | Another Hour Another Point | |
| 1041: Revisiting Puzzle 55: Scorpion Toxin | 01/29/15 | 9,732 | gitwut | 9,737 | Bletchley Park | 9,737 | Contenders | |
| 1244: Revisiting Puzzle 55: Scorpion Toxin | 06/08/16 | 9,880 | Skippysk8s | 9,908 | Skippysk8s | 9,908 | Gargleblasters | |
| 1495: Revisiting Puzzle 55: Scorpion Toxin | 03/19/18 | 10,706 | LociOiling | 10,703 | smilingone | 10,706 | Beta Folders | |
| 1542b: Sketchbook Puzzle - Revisiting Puzzle 55: Scorpion Toxin | 07/09/18 | 10,480 | fiendish_ghoul | 10,195 | Bruno Kestemont | 10,405 | Void Crushers | |
| 1687: Revisiting Puzzle 55: Scorpion Toxin | 06/24/19 | 10,633 | NinjaGreg | 10,643 | toshiue | 10,643 | Go Science | |
| 1955: Revisiting Puzzle 55: Scorpion Toxin | 02/18/21 | 10,625 | ZeroLeak7 | 10,673 | mirp | 10,673 | Go Science | |