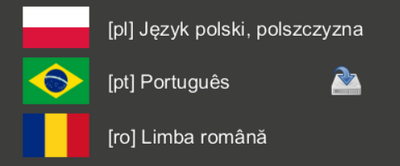 Foldit user socramdm has translated Foldit into Brazilian Portuguese.
Unfortunately, the Foldit system for uploading new translations is not working. See the Foldit feedback Upload of .po translation file not working for details.
Until the Foldit system is repaired, users may install the translation file directly.
The steps for installing the translation are listed below. We apologize for the technical nature of these instructions.
Locate your Foldit installation
Edit
By default, Foldit is installed in C:\Foldit on Windows. Try looking in this location using Windows Explorer.
Other operating systems have a similar structure.
Locate the current resources/locale directory
Edit
The resources directory is part of the Foldit installation. The locale directory is contained within the resources directory.
The current resources/locale directory on Windows is:
C:\Foldit\cmp-resources-1e8bcb69156e40a1336e1f920fdaa0a0\resources\locale

Change C:\Foldit as needed.
Note that there is also a default resources/locale directory:
C:\Foldit\cmp-resources-00000000000000000000000000000000\resources\locale

Do not use this directory.
Download and rename the translation file
Edit
The translation file is available on the Foldit website: pt_BR.po_.txt.
Download the translation file from the Foldit website.
Save the file in a temporary location. Use a location that is not part of your Foldit installation.
Rename the file to follow the Foldit naming convention: foldit.pt.po
Copy the translation file to the resources/locale directory
Edit
Copy foldit.pt.po to the current resources/locale directory.
The resources/locale directory may be replaced by a Foldit software update.
Keep a copy of foldit.pt.po in a location outside of Foldit in case resources/locale is replaced by an update.
Start Foldit and select the translation
Edit
Start Foldit, or close and restart Foldit.
On the login screen, the Set language button will display the list of available translations. The new translation should appear as "[pt] Português" with a Brazilian flag.
Select the new language by double-clicking on it, or click to select and select "Apply Language". Foldit will close and restart with the new language installed.
Community content is available under
CC-BY-SA
unless otherwise noted.