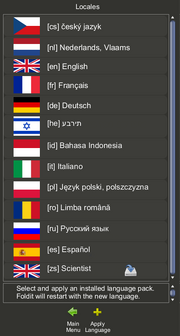 Foldit relies on volunteer translators to translate the game's messages into different languages.
See Set language for a current list of the languages included in Foldit.
The client translation list on the Foldit website may have additional languages that haven't been included in Foldit.
Foldit Translations describes how to install a translation file for a language that hasn't already been included in Foldit.
Translating Foldit describes how to create a new translation.
Technical issues are preventing translations to non-European languages such as Chinese, Korean, and Japanese from working in Foldit.
Completed translations
[
]
Note: this list of languages is outdated, see Set language for a more current list.
Requested translations
[
]
Note: New flags can be downloaded from or Wikipedia. Resize to 25x25 pixels, PNG
Note: Language codes should follow (to be consistent, use lowercase)
Note: When adding a new contact point, the English text is "Need help? Please contact:"