Foldit Wiki is a community site that anyone can contribute to. Discover, share and add your knowledge!
Trending articles
Popular categories
View full main page
Foldit is an online citizen science game in which humans try to solve one of the hardest computational problems in biology: protein folding. You don't need to know anything about biology to play the game, although a little background will help. Most Foldit players are not biologists. Read about The Science Behind Foldit.
New Players
What's folding
Updates
Videos
Tools, tips, techniques
Several translations of the Foldit Wiki are available:


German

Italian
Japanese
Korean

Russian

Spanish
French
Featured articles
Contents   ( View All Pages - Foldit Wikia Index )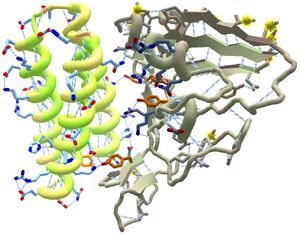 Players can submit screenshots of their best or most interesting results using the camera button in chat. The Foldit wiki has thousands of these images. See recent puzzle results and older results for a complete list. See posting results for tips on how to post.

Discord
Join The Foldit Discord Server


Try Discord as an alternative to Foldit's IRC chat. Key Foldit channels like #veteran and #global are mirrored between Discord and IRC by helpful bots.

The Science
These pages describe the science of protein folding.
Helping out
Please see the Foldit wiki Rules before making changes.
If you are new to Fandom wikis, check out Fandom Basics.
For minor changes (typos, spelling, grammar, etc.) please go ahead and make the change.
For more substantial changes, please join the Foldit Discord server, and introduce yourself on the #wiki channel. The #wiki channel is the best place to discuss new articles or changes to existing articles.
Please try to keep your user name/screen name the same or at least recognizable between Foldit, Discord, and Fandom. That will help prevent confusion and misunderstandings.
The Foldit wiki has a Wanted Articles page, but it's mostly broken links and other things that need to be cleaned up. The Stubs page on the Foldit wiki is normally empty, but might contain a list of articles that need content added. Foldit has been busy adding new features lately, and the wiki is still trying to catch up. At some point, the stubs/wanted articles lists might become more relevant, but right now they're not really in use.
There's also a community portal page here on the wiki, but it's never been used.