Foldit is an online game in which humans try to solve one of the hardest computational problems in biology: protein folding. You don't need to know anything about biology to play the game, although a little background will help. Most Foldit player are not biologists. Read about The Science Behind Foldit.
New Players
Visit the fold.it, the official Foldit site to download the game and get started. Foldit runs on Windows, Mac, and 64-bit Linux. See Download-Install-Troubleshoot for install instructions. Use the feedback page if you're having trouble getting the game installed. If you're seeing "error contacting server" messages, update this feedback with details.
The Intro Puzzles show you the tools, try them before trying a science puzzle. (deutsch) | (svenska)
See Get Started Playing Foldit for more.
Please read the Foldit Community Guidelines and Terms of Service.
See Foldit Status for any issues affecting the game.
Updates
Videos
Tools, tips, techniques
Several translations of the Foldit Wiki are available:


German

Italian

Japanese

Korean

Russian

Spanish

French
Featured articles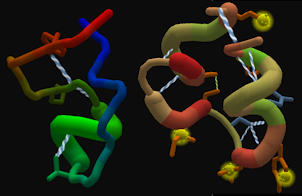 Players can submit screenshots of their best or most interesting results using the camera button in chat. The Foldit wiki has thousands of these images. See recent puzzle results and older results for a complete list. See posting results for tips on how to post.

The Science
These pages describe the science of protein folding.
Helping out
This is a wiki about the Foldit game that anyone can edit. Before you do edit it, however, please take a look around and determine whether or not the article you'd like to write already exists. (If it does exist, feel free to make it better!)
To write a new article, just enter the article title in the box below.
Not sure where to start?
Adding content
Talk and more...
Check out the community portal to see what the community is working on, to give feedback or just to say hi.
Community content is available under
CC-BY-SA
unless otherwise noted.