Foldit is an online citizen science game in which humans try to solve one of the hardest computational problems in biology: protein folding. You don't need to know anything about biology to play the game, although a little background will help. Most Foldit player are not biologists. Read about The Science Behind Foldit.
New Players
Visit the fold.it, the official Foldit site to download the game and get started. Foldit runs on Windows, Mac (64-bit), and 64-bit Linux (64-bit). See Download-Install-Troubleshoot for install instructions. Use the feedback page if you're having trouble getting the game installed. If you're seeing "error contacting server" messages, update this feedback with details.
The Intro Puzzles show you the tools, try them before trying a science puzzle. (deutsch) | (svenska)
The video QUICK Foldit Tutorial Walkthrough from S0ckrates shows the fast path through the intro puzzles.
See Get Started Playing Foldit for more background.
Foldit's education mode features a series of puzzles that go into much more technical depth than the regular intro puzzles. (Education mode involves installing a separate version of Foldit, see For Educators on the Foldit web site.)
Please read the Foldit Community Guidelines and Terms of Service. Please also see the Rules of the Foldit wiki.
See Foldit Status for any issues affecting the game.
What's folding
Note: this list gets updated weekly after the last puzzle expires. See the official list of puzzles for the most current puzzle info.
Updates
New face: the new Foldit user interface is now available for testing in the devprev release. In the streamlined new version, the original interface and its pie menus are gone, and the selection interface has been reorganized. The Foldit blog post New Foldit Interface describes the result. The post Guide To Interface Changes helps track down various features in their new locations. A few features, like a player's current rank and the puzzle expiration, are currently missing.
AI, AI, AI - the AlphaFold AI protein predictor is now available as a tool in Foldit. Lab Report #23: AlphaFold in Foldit and the blog post The AlphaFold prediction tool in Foldit have more on this new tool.
MOM loves you: the first four solved Foldit designs were the July 2021 Molecules of the Month over at the Protein Data Bank (rcsb.org). Foldit's contributions on the Mason-Pfizer Monkey Virus and Diels-Alderase also get a nod.
Hall of fame: congratulations to NinjaGreg, the latest player to design a protein that folds up in the lab. Not only that, but it's the first "solved" design from a symmetry puzzle, involving multiple copies of the same protein. As detailed in Foldit Lab Report #22, NinjaGreg's design for Puzzle 1864 was turned into a tetramer when grown in the lab, even though it was designed as a trimer. The initial design was also covered in Foldit Lab Report #11: Deep Learning.
Coming attractions: the new Foldit website should be available soon, according to an "office hour" chat with Foldit developer jflat06 on 18 April 2021. The new website includes a new recipe management system, which replaces the old cookbook. As previously announced, older GUI and Lua V1 recipes will no longer work once the new website is completed. According to jflat06, the new site will likely be available in preview mode before that happens.
Discord comes to Foldit: A new Discord server gives players a new spot to hang out. Discord is oriented toward online gaming, and offers many features not found in IRC chat. In addition to basic text chat, Discord has voice chat and even screen sharing options. Discord has apps for Windows, macOS, Android, and iOS, and also offers web access. Discord users can be connected on multiple platforms at the same time. Messages on Discord persist, so offline users can catch up later.
Chillin': the Foldit Cryo-EM paper has been published in PLOS Biology. The Foldit blog makes you scroll down before announcing Foldit players take gold!. Once again, Foldit players beat actual scientists. The paper's supplement (docx format) contains commentary from several Foldit players on how they did it.
Nurture versus Nature: De novo protein design by citizen scientists, describing the results of Foldit design puzzles, was published in Nature 5 June 2019. Five Foldit players are listed as named authors, along with "Foldit Players". A longer list of players appears in the "Supplementary information" section. See the Foldit blog post about the paper. Congratulations to lead author Brian Koepnick!
Naming names: a number of Foldit players are listed as authors (using their real names) on an article just published in Nature Scientific Reports. See Interesting Articles (under "contribution of Foldit players to scientific results") for a complete list and a link to the paper.
Videos
Tools, tips, techniques
Several translations of the Foldit Wiki are available:


German

Italian

Japanese
Korean

Russian

Spanish

French
Featured articles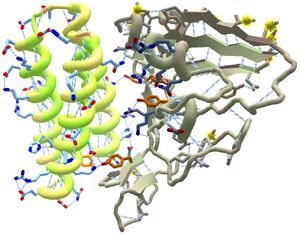 Players can submit screenshots of their best or most interesting results using the camera button in chat. The Foldit wiki has thousands of these images. See recent puzzle results and older results for a complete list. See posting results for tips on how to post.

Discord
Join The Foldit Discord Server


Try Discord as an alternative to Foldit's IRC chat. Key Foldit channels like #veteran and #global are mirrored between Discord and IRC by helpful bots.

The Science
These pages describe the science of protein folding.
Helping out
Please see the Foldit wiki Rules before making changes.
If you are new to Fandom wikis, check out Fandom Basics.
For minor changes (typos, spelling, grammar, etc.) please go ahead and make the change.
For more substantial changes, please join the Foldit Discord server, and introduce yourself on the #wiki channel. The #wiki channel is the best place to discuss new articles or changes to existing articles.
Please try to keep your user name/screen name the same or at least recognizable between Foldit, Discord, and Fandom. That will help prevent confusion and misunderstandings.
The Foldit wiki has a Wanted Articles page, but it's mostly broken links and other things that need to be cleaned up. The Stubs page on the Foldit wiki is normally empty, but might contain a list of articles that need content added. Foldit has been busy adding new features lately, and the wiki is still trying to catch up. At some point, the stubs/wanted articles lists might become more relevant, but right now they're not really in use.
There's also a community portal page here on the wiki, but it's never been used.