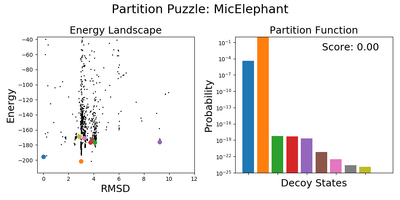 A decoy is a solution to a protein that has low free energy (in Foldit, a high score), but is not close to the known native shape or the desired design shape.
Decoys are also referred to as "holes" in the "energy landscape" of a protein. In Foldit or in a folding simulation such as Rosetta@Home, a protein can get stuck in one of these holes. The only way out of a hole is to increase free energy (lower the Foldit score), change the shape of the protein, and try again.
A plot called a folding funnel can be used to illustrate decoys. Ideally, a folding funnel has a thin neck pointing to the lower left corner of the plot. This indicates the solutions are converging toward a reference solution, such as a known native.
Decoys are points that are close to horizontal X-axis of the folding funnel, indicating low free energy. Decoys that are close to the vertical Y-axis are close to the shape of the reference solution, so they're less of a concern. The farther away the decoy is from the Y-axis, the more likely it is to be a problem.